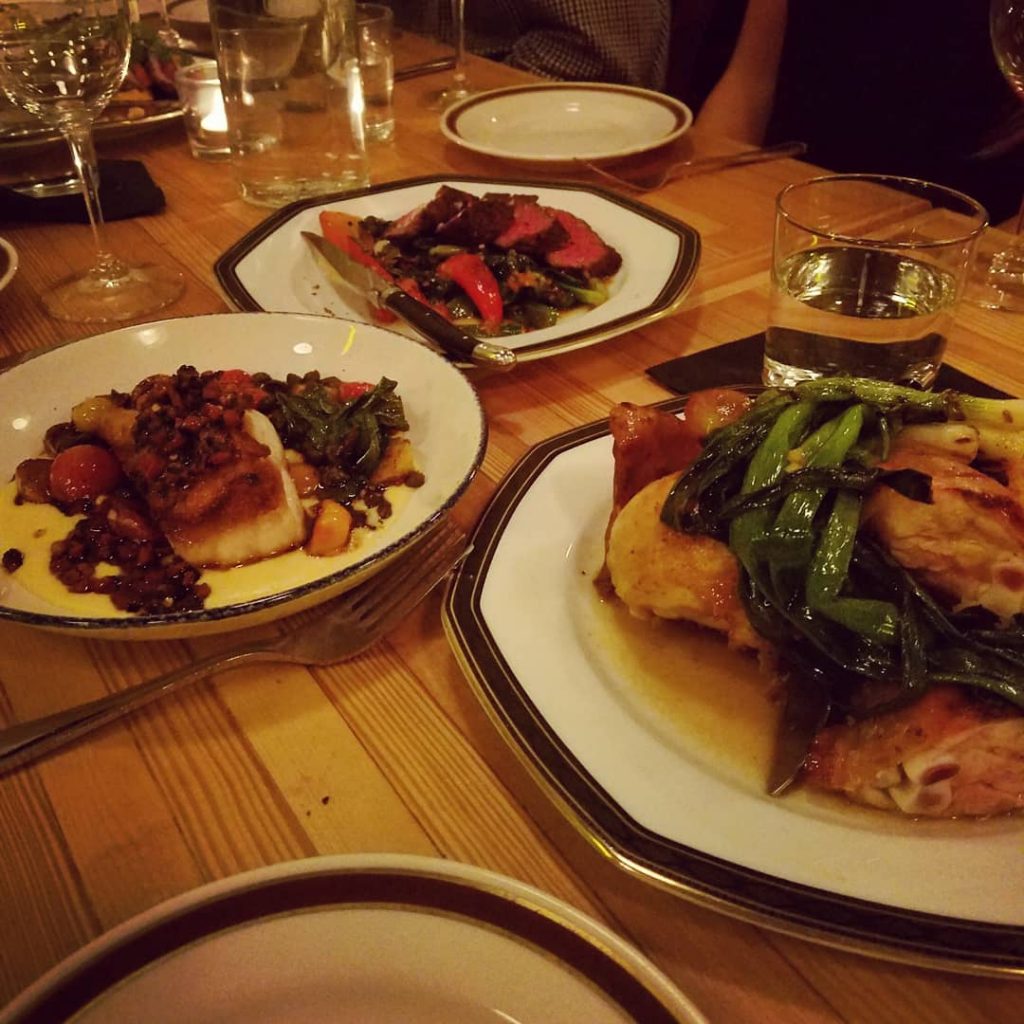 Attire: Relaxed to trendy casual.
Ambiance: Nancy's Hustle is located in a fairly small venue in EaDo. It's a bustling, energetic, loud restaurant. While I wouldn't recommend it for an intimate occasion or a large group (max party size is 6), it was a perfect space for a group of friends or a smaller party looking for a fun night out.
Food: Very delicious and very unique. For this occasion, we ordered a variety of plates for the table to share family-style. We started with the "Nancy Cakes" with whipped butter and trout roe, the crispy hashbrowns with sautéed duck hearts, and the lamb dumplings with spicy tomato vinaigrette. We then moved to the lamb tartare and the greens salad with green apple and Dijon dressing. These were all delicious and each person had their own favorite, but we agreed that the Nancy Cakes were a must-order for next time. For our main entrees, we ordered the sourdough tagliatelli with brussels sprouts, wood grilled half chicken, roasted grouper with melted tomato and chorizo, the grilled sirloin tip with blistered peppers, and the grilled pork loin with peaches. Our favorites were the grouper and the sirloin tip, though everything served was excellent. We have also been told that the burger is excellent, so that is something we look forward to trying on our next visit. For dessert, we ordered the profiteroles with labneh ice cream and blackberry sauce and the vanilla crème brulee, along with cold Irish coffees. Both desserts were absolutely delicious and very well executed.
Drinks: A very diverse menu, with great options for any taste. A few of us ordered cocktails or beers to start, and we were pleased with our choices. The Big Bamboo cocktail was extra delicious. With dinner, we ordered a bottle of orange wine, though if you are looking for organic wines, you are in luck. Nancy's Hustle specializes in organic wines, and it's a nice aspect that sets the restaurant apart.
Service: Very friendly. Allie, our server, was wonderful and attentive, and she made great recommendations to us throughout the evening with regards to the food and drinks menus. All team members whom we interacted with were very kind and eager to help.
Overall: We loved Nancy's Hustle, both for the food and for the energy. The dishes were both memorable and tasty. The restaurant had an upbeat vibe that lent itself nicely to our gathering of friends. Between shared dishes, delicious beverages, and friendly service, we had a great evening and are looking forward to returning for more.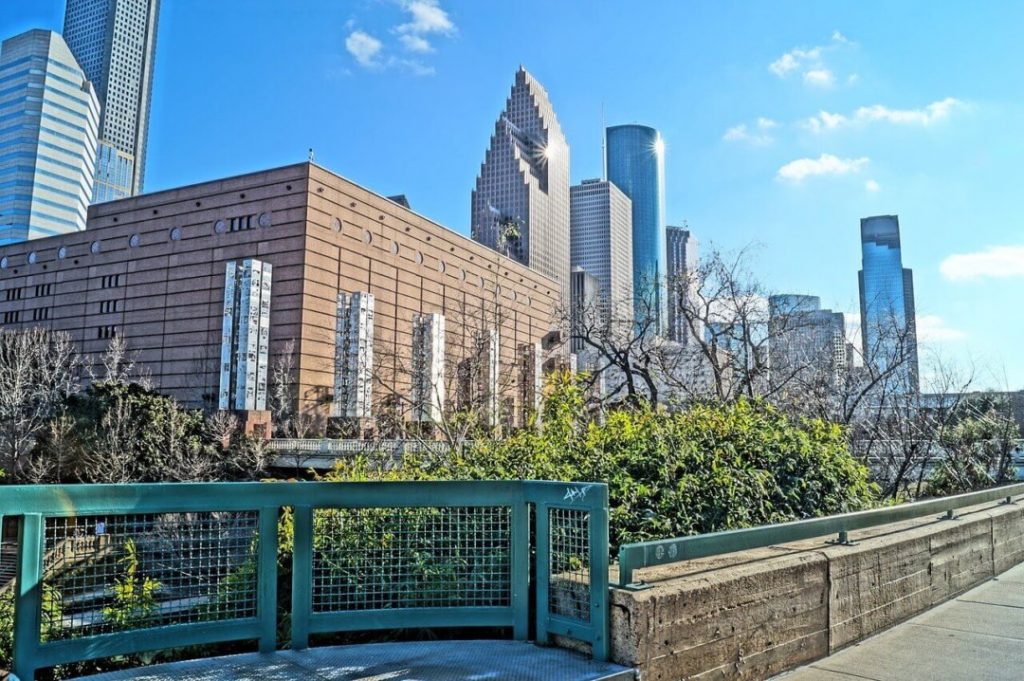 WINE & FOOD WEEK IN THE WOODLANDS
THURSDAY, JUNE 7, 2018 – SUNDAY, JUNE 10, 2018
This annual event has a variety of food and wine related activities associated with it. Highlights include an H-E-B Wine Walk on Market Street this Thursday, Sips, Suds, and Tacos on Friday, and a Grand Tasting & Chef Showcase of Saturday.
BRENNAN'S DATE NIGHT COOKING CLASS
FRIDAY, JUNE 8, 2018
If you are looking for something fun and delicious to do with your significant other, consider signing up for Brennan's Date Night Cooking Class this Friday. The presented menu feature Southern items such as Fried quail and Sweet Potato Waffles, and Texas Peach and Lemon Scented Cornbread Cobbler, and it will include passed hors d'oeuvres, a reception cocktail, and paired wines.
281-NIGHT MARKET @ DISCOVERY GREEN
SATURDAY, JUNE 9, 2018, 4 PM- 10 PM
Discovery Green will be hosting a night market and food festival, with vendors such as Spicy Dog, Oh My Gogi, Smoosh Cookies, Muishii Makirrito, Casian King, Dumpling Haus, Ono Poke, and more. The event is family friendly and open to the public.
24TH ANNIVERSARY OF SAINT ARNOLD BREWING COMPANY
SATURDAY, JUNE 9, 2018, 4 PM- 10 PM & SUNDAY, JUNE 10, 2018, 2 PM – 4:30 PM
St. Arnold's is celebrating its 24th Anniversary with Texas music and brews on Saturday, and a special tasting of beers from their cellar on Sunday.
LUAU PARTY @ NIGHT HERON
SUNDAY, JUNE 10, 2018, 4 PM- 8 PM
Grab your grass skirt or Hawaiian shirt, and head over to Night Heron on Sunday for its first Luau Party. For $35, you can enjoy a Luau Plate feauturing Hawaiian-style pork loin and receive a drink ticket for either a Galveston Island Brewing beer or Tiki cocktail special, plus live music from the Will Horn Trio. If you haven't tried Night Heron yet, its cocktails and food are both fantastic, and it will surely not disappoint.
May's club meeting took place at Steak 48 for dinner.
Attire: Business casual to cocktail.
Ambiance: Sexy, modern, and cool. You feel like you are in a very fine establishment right away. The lounge area is very nice, and there are different levels to the restaurant. We were in a smaller room off the main dining room, and even on a Tuesday, the place was packed. There was a lot of energy in the restaurant, and because it was kind of loud inside, it felt more upbeat than romantic.
Food: Let me put it this way – we ALL ate until we were incredibly stuffed, because the food is just THAT delicious. For the bread service, we had the option of adding garlic and parmesan, or salt and pepper, or some of both (which is what we did), and it was served in a cast iron pan. We ordered two appetizers: the fried deviled eggs and the braised pork belly with sautéed spinach. Both were perfection. Our waiter also recommended anything with the crispy shrimp, and although we didn't get that as an appetizer, one of us got it as a steak topping, and let me say, you should not leave Steak 48 without trying the crispy shrimp. Someone at Steak 48 is going to cringe when I say this, but the flavor of the seasoning for the shrimp reminded me of Cajun seasoning for KFC fried chicken in the best way possible. While I am sure their shrimp seasoning is much fancier than anything KFC serves, the crispy shrimp were life-changing, and I can't recommend them more highly. So go and order them now. Okay, moving on… the steaks came, and we were warned that the plates are brought to the table at 500°F – they are not joking about this, so don't play with the plates. We ordered the filet mignon (one with shrimp, one with blue cheese), the bone-in ribeye, the NY Strip, and the scallops. For sides, we ordered the au Gratin potatoes, the corn crème bruleé, the roasted brussels sprouts, the double baked truffle potato, and the asparagus fries. (Side note: There were five of us, so we ordered one side per person and shared. This was more than enough with everything else we ordered.) The steaks were all cooked to perfection and melted in your mouth like buttah. The bone-in ribeye was recommended to us, and while it was truly excellent, if you prefer a different cut, you will not be disappointed with any of the other ones either. The seafood dish was also very well executed. The sides were also all incredible, with no clear favorite. If you are curious about the corn crème bruleé, it is one of Steak 48's signature sides, and I would describe it as very delicious creamed corn that has been caramelized on top. The entire meal was very rich – cheese, butter, steak, eggs, scallops, fried goodness. But did that stop us from enjoying dessert? Heck no. We made room for, you guessed it, butter cake. Butter cake is essentially a vanilla caramel cake, served warm with praline pecans, whipped cream, and vanilla bean ice cream. And we finished the whole thing between the 5 of us, even though we all declared we could not eat another bite after finishing our steaks.
Drinks: We stuck to beer and wine, though there were many delicious looking cocktails. The wine menu is very extensive, with many options by the glass or by the bottle. We were pleased with all of our beverages.
Service: Excellent. Our main waiter was very knowledgeable about the menu and informed us politely about the restaurant, since it was our first time visiting. Everyone who came to our table was very professional.
Overall: Steak 48 completely lives up to the hype and should certainly be considered one of Houston's finest steakhouses. All of the food was incredible. The service and environment are top-notch. While it may not be an everyday-dining establishment for most of us, it is a great place for an extravagant dinner or special occasion, and we had a wonderful, memorable evening. Thank you, Steak 48, for a great dining experience.