August 2, 2018 by Lauren Scott
July's club meeting took place at Nancy's Hustle for dinner.
Attire: Relaxed to trendy casual.
Ambiance: Nancy's Hustle is located in a fairly small venue in EaDo. It's a bustling, energetic, loud restaurant. While I wouldn't recommend it for an intimate occasion or a large group (max party size is 6), it was a perfect space for a group of friends or a smaller party looking for a fun night out.
Food: Very delicious and very unique. For this occasion, we ordered a variety of plates for the table to share family-style. We started with the "Nancy Cakes" with whipped butter and trout roe, the crispy hashbrowns with sautéed duck hearts, and the lamb dumplings with spicy tomato vinaigrette. We then moved to the lamb tartare and the greens salad with green apple and Dijon dressing. These were all delicious and each person had their own favorite, but we agreed that the Nancy Cakes were a must-order for next time. For our main entrees, we ordered the sourdough tagliatelli with brussels sprouts, wood grilled half chicken, roasted grouper with melted tomato and chorizo, the grilled sirloin tip with blistered peppers, and the grilled pork loin with peaches. Our favorites were the grouper and the sirloin tip, though everything served was excellent. We have also been told that the burger is excellent, so that is something we look forward to trying on our next visit. For dessert, we ordered the profiteroles with labneh ice cream and blackberry sauce and the vanilla crème brulee, along with cold Irish coffees. Both desserts were absolutely delicious and very well executed.
Drinks: A very diverse menu, with great options for any taste. A few of us ordered cocktails or beers to start, and we were pleased with our choices. The Big Bamboo cocktail was extra delicious. With dinner, we ordered a bottle of orange wine, though if you are looking for organic wines, you are in luck. Nancy's Hustle specializes in organic wines, and it's a nice aspect that sets the restaurant apart.
Service: Very friendly. Allie, our server, was wonderful and attentive, and she made great recommendations to us throughout the evening with regards to the food and drinks menus. All team members whom we interacted with were very kind and eager to help.
Overall: We loved Nancy's Hustle, both for the food and for the energy. The dishes were both memorable and tasty. The restaurant had an upbeat vibe that lent itself nicely to our gathering of friends. Between shared dishes, delicious beverages, and friendly service, we had a great evening and are looking forward to returning for more.
May's club meeting took place at Steak 48 for dinner.
Filet Mignon with blue cheese and brussels sprouts at Steak48
Attire: Business casual to cocktail.
Ambiance: Sexy, modern, and cool. You feel like you are in a very fine establishment right away. The lounge area is very nice, and there are different levels to the restaurant. We were in a smaller room off the main dining room, and even on a Tuesday, the place was packed. There was a lot of energy in the restaurant, and because it was kind of loud inside, it felt more upbeat than romantic.
Food: Let me put it this way – we ALL ate until we were incredibly stuffed, because the food is just THAT delicious. For the bread service, we had the option of adding garlic and parmesan, or salt and pepper, or some of both (which is what we did), and it was served in a cast iron pan. We ordered two appetizers: the fried deviled eggs and the braised pork belly with sautéed spinach. Both were perfection. Our waiter also recommended anything with the crispy shrimp, and although we didn't get that as an appetizer, one of us got it as a steak topping, and let me say, you should not leave Steak 48 without trying the crispy shrimp. Someone at Steak 48 is going to cringe when I say this, but the flavor of the seasoning for the shrimp reminded me of Cajun seasoning for KFC fried chicken in the best way possible. While I am sure their shrimp seasoning is much fancier than anything KFC serves, the crispy shrimp were life-changing, and I can't recommend them more highly. So go and order them now. Okay, moving on… the steaks came, and we were warned that the plates are brought to the table at 500°F – they are not joking about this, so don't play with the plates. We ordered the filet mignon (one with shrimp, one with blue cheese), the bone-in ribeye, the NY Strip, and the scallops. For sides, we ordered the au Gratin potatoes, the corn crème bruleé, the roasted brussels sprouts, the double baked truffle potato, and the asparagus fries. (Side note: There were five of us, so we ordered one side per person and shared. This was more than enough with everything else we ordered.) The steaks were all cooked to perfection and melted in your mouth like buttah. The bone-in ribeye was recommended to us, and while it was truly excellent, if you prefer a different cut, you will not be disappointed with any of the other ones either. The seafood dish was also very well executed. The sides were also all incredible, with no clear favorite. If you are curious about the corn crème bruleé, it is one of Steak 48's signature sides, and I would describe it as very delicious creamed corn that has been caramelized on top. The entire meal was very rich – cheese, butter, steak, eggs, scallops, fried goodness. But did that stop us from enjoying dessert? Heck no. We made room for, you guessed it, butter cake. Butter cake is essentially a vanilla caramel cake, served warm with praline pecans, whipped cream, and vanilla bean ice cream. And we finished the whole thing between the 5 of us, even though we all declared we could not eat another bite after finishing our steaks.
Drinks: We stuck to beer and wine, though there were many delicious looking cocktails. The wine menu is very extensive, with many options by the glass or by the bottle. We were pleased with all of our beverages.
Service: Excellent. Our main waiter was very knowledgeable about the menu and informed us politely about the restaurant, since it was our first time visiting. Everyone who came to our table was very professional.
Overall: Steak 48 completely lives up to the hype and should certainly be considered one of Houston's finest steakhouses. All of the food was incredible. The service and environment are top-notch. While it may not be an everyday-dining establishment for most of us, it is a great place for an extravagant dinner or special occasion, and we had a wonderful, memorable evening. Thank you, Steak 48, for a great dining experience.
Now that it seems summer has truly come to Houston, it's time for some ice cold drinks on the patio. Here are our top picks.
AXELRAD – MIDTOWN
One of the our favorite places to day drink in Houston. Hammocks, plenty of patio seating, live music, games, and delicious pizza place conveniently located on site.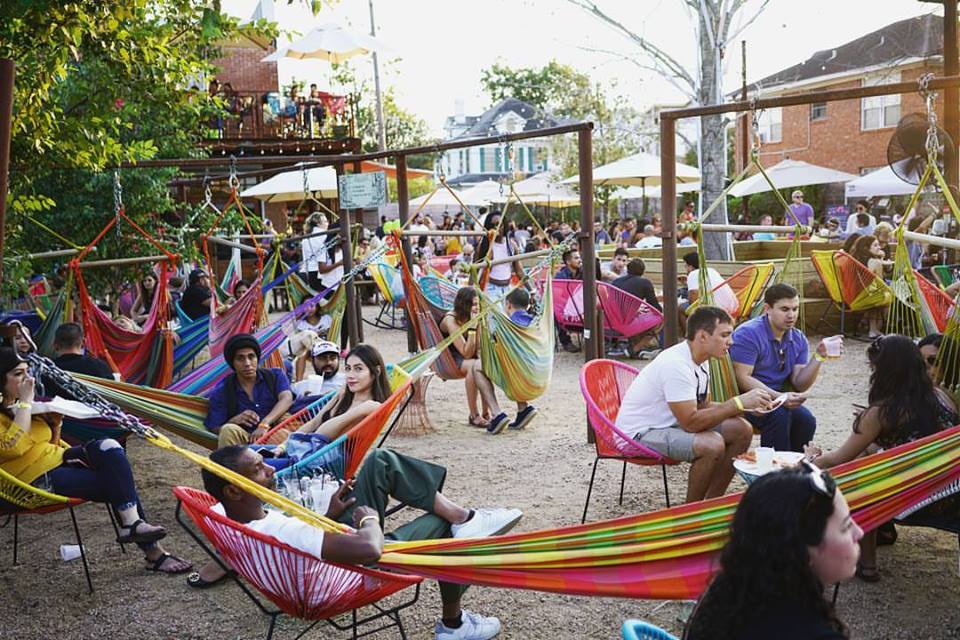 Axelrad, Facebook
BACCO – WEST UNIVERSITY
Shady space with board games and wine.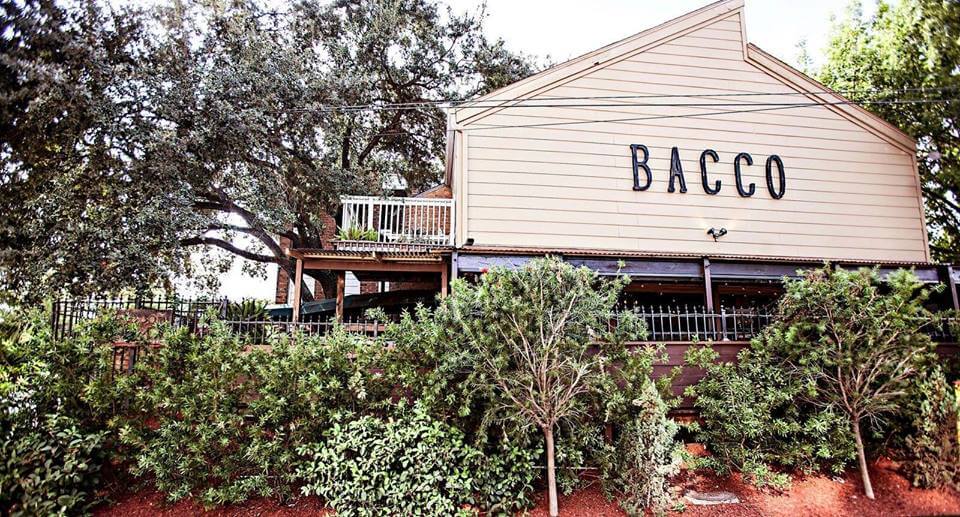 Bacco, Facebook
BATANGA – DOWNTOWN
Lovely patio dining in downtown.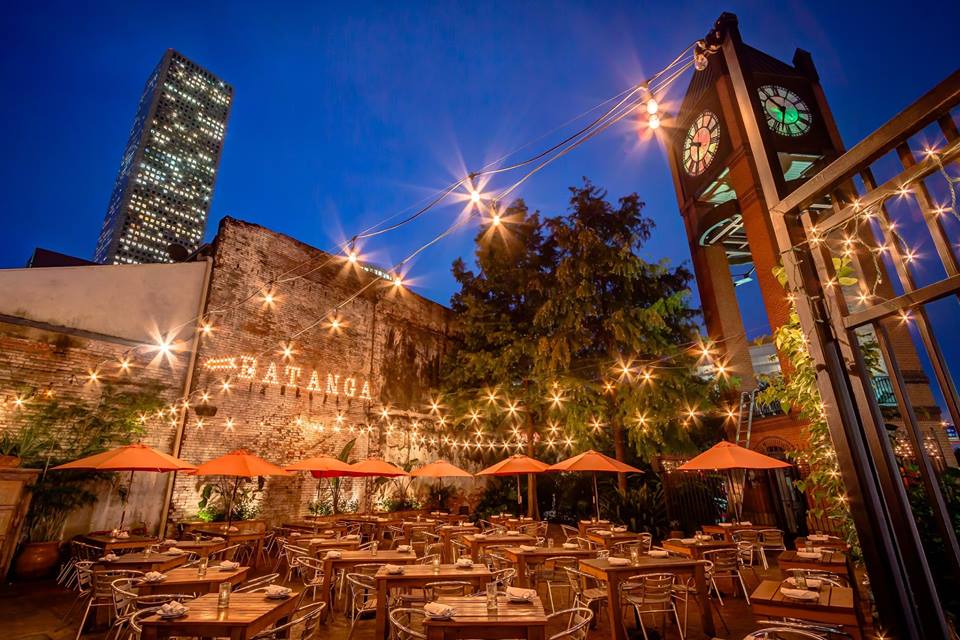 Batanga, Facebook
BOHEME – MONTROSE
All the cool kids go to Boheme. Sexy vibe at night.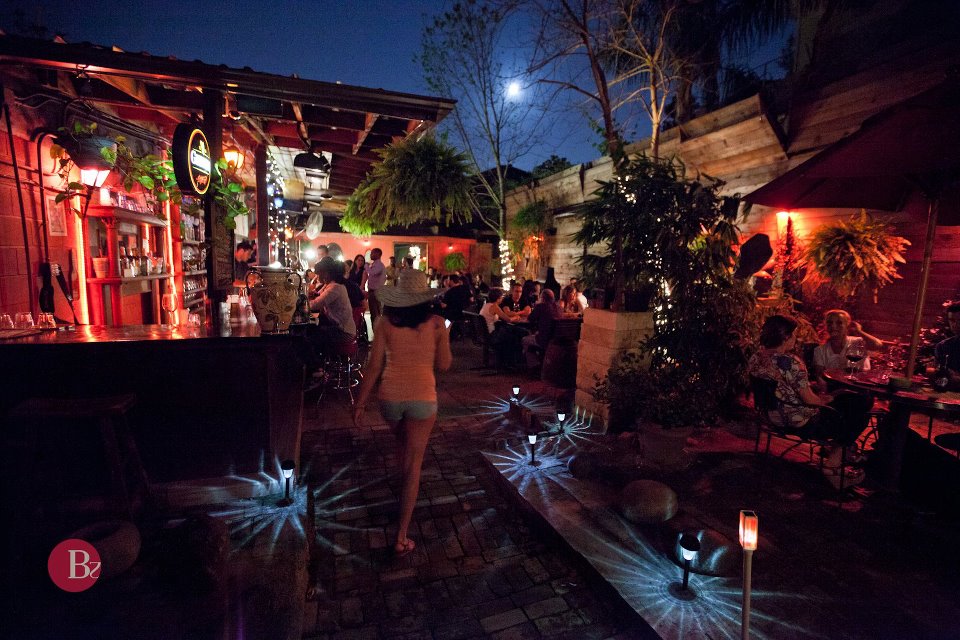 Boheme, Facebook
BROOKLYN ATHLETIC CLUB – MONTROSE
Bocce ball anyone?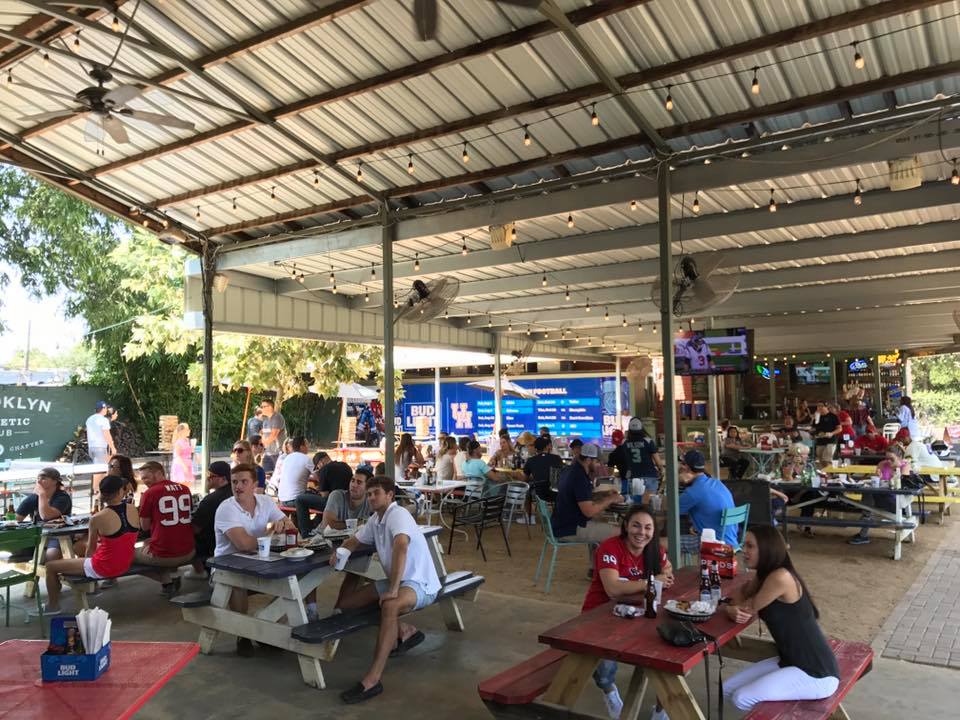 Brooklyn Athletic Club, Facebook
April 28, 2018 by Lauren Scott
For the month of April, the Dinner Club met at FM Kitchen and Bar on a Thursday evening.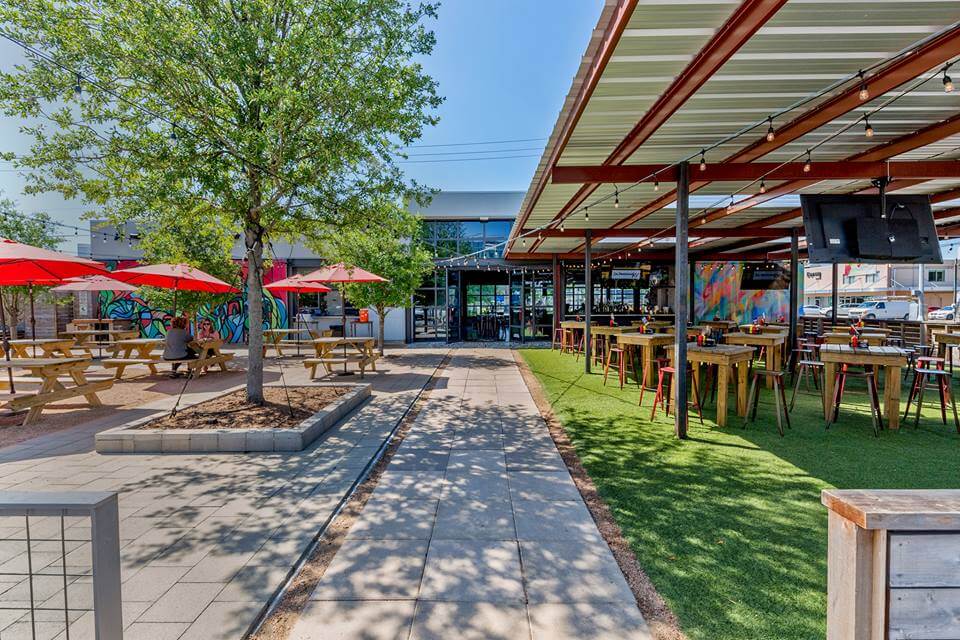 Food: Upgraded bar fare – think different styles of hot dogs, burgers, spicy chicken sandwiches, tots with queso and jalapeños, and more. The spinach dip and the corn dog appetizers were also tasty. Side note: fried pickles are noticeably absent from the standard menu. We ordered burgers, the chicken sandwich, the Chicago dog, and the chicken pot pie. The guys were unimpressed with the size of the burgers, but then again, the burgers are $5.89 each. The food, overall, was good, but it wasn't anything super memorable.
Drinks: We were very happy with the cocktail and beer selection. They have a nice selection of local brews on draft– 8th Wonder, Buffalo Bayou, St. Arnold's, Platypus, and of course, Karbach. The happy hour here is pretty sweet, too: $5 select wine, wells, and tap-tails, $1 off all beer and specialty cocktails from 3 PM to 7 PM, Monday – Friday.
Vibe: Casual, but plenty of professional-types in suits there after work. The patio has one area that is covered, and the other half has picnic tables with umbrellas. The restaurant has a large indoor seating section and bar as well. There are games such as ping-pong and corn hole, lots of TVs, and a stage for live entertainment. As far as service goes, it wasn't always with a smile and no one was extra friendly, but we received our food and drinks quickly and accurately, which counts for something. Also important to note that FM is pet-friendly.
Overall: FM Kitchen and Bar is a great place to go watch a game or hang out with friends after work. Cocktails and drinks are good, lots of patio space, nice happy hour, TVs available inside and out. If you are looking for the Houston's most delicious burger, you might look elsewhere, but if you get the munchies while hanging out here, you certainly will be well fed.
Looking for the best tacos in Houston? We have a list of suggestions.
Fusion Taco
They don't skimp on the fillings and we love them for it. Unique combinations, great happy hour. Their tortilla chips are also very good.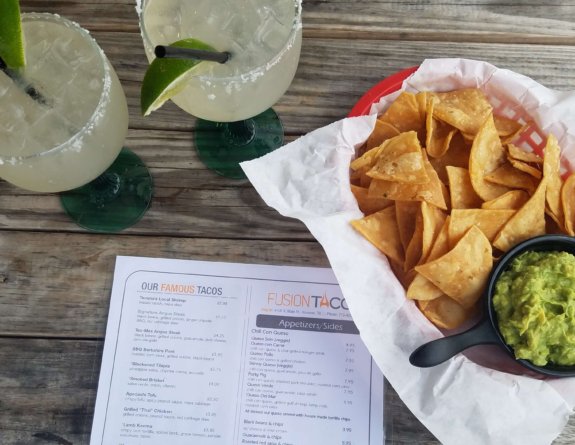 Tacodeli
Breakfast and lunch only at this joint, so get there early. The Dona sauce is where it's at.
Tacos A Go-Go
Famous for their pollo guisado tacos, but pretty much everything is delicious.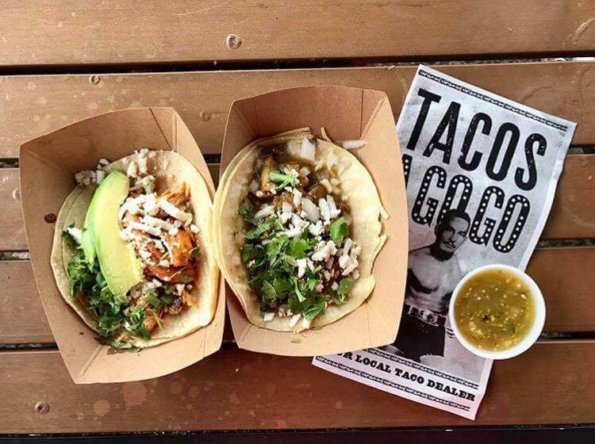 Velvet Taco
I have yet to eat something here that I haven't liked. And that back-door chicken? Yes, please.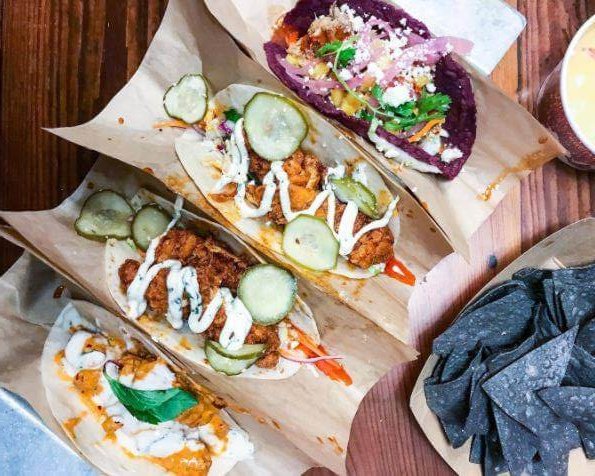 100% Taquito
Known for their tacos de tinga. Get three or so Mexico City-style tacos when you go here – they are inexpensive and small, so you can try multiple flavors.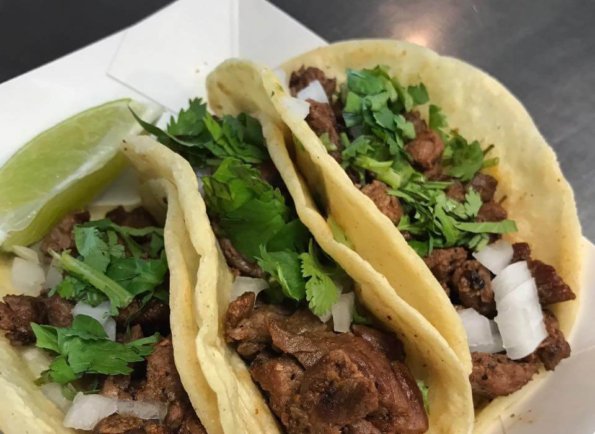 Berryhill Baja Grill
Fish tacos here are hard to beat, let's be honest.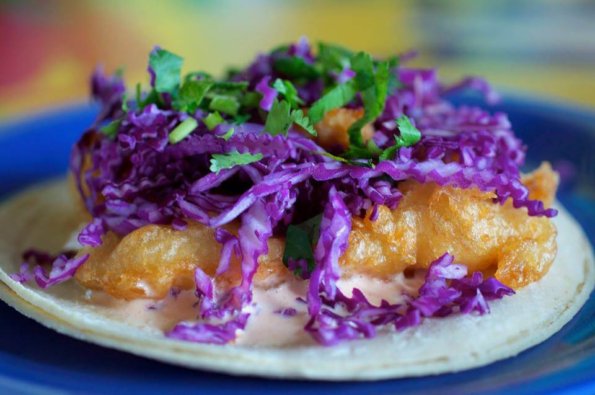 Tacos Tierra Caliente
Cheap, delicious, and right across from West Alabama Icehouse. Add avocado, always.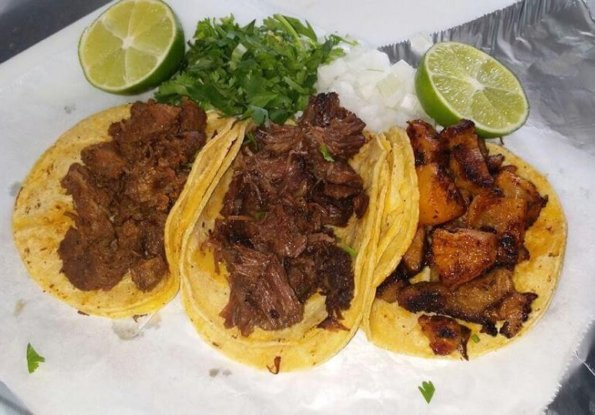 Sunrise Taquito
A hidden gem for delicious breakfast tacos.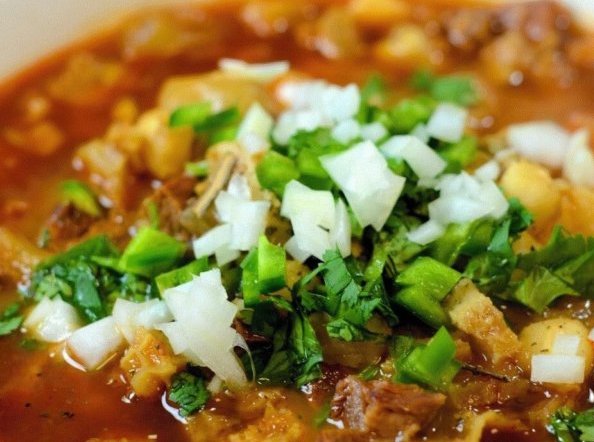 Chilosos Taco House
This Heights joint is all about the meats with freshly shaven pieces of barbacoa and chicken. Also known for their mean breakfast tacos and spicy salsa.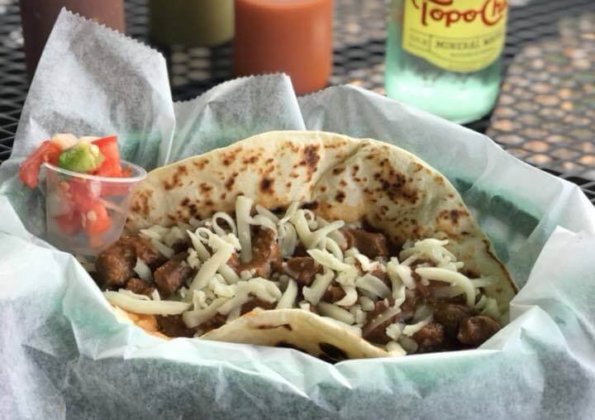 Liberty Taco
A variety of traditional and inventive tacos with global flair.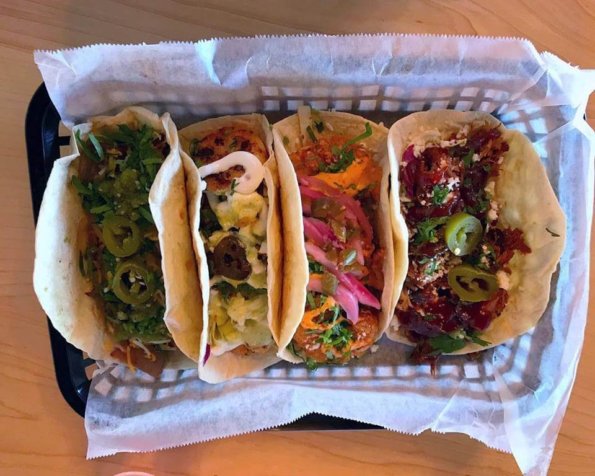 Laredo Taqueria
This spicy, greasy, delicious taqueria chain is the perfect place to nurse a hangover. Go for the spicy chicken and thank us later.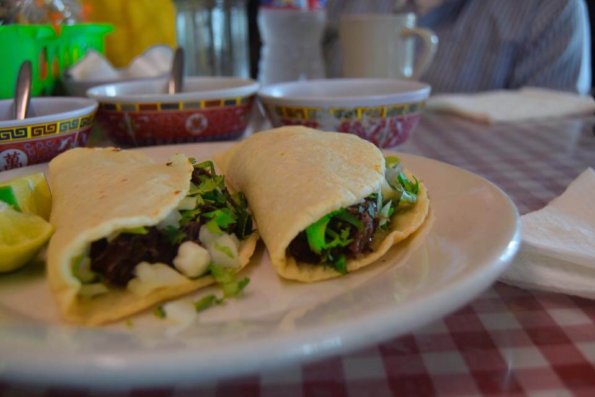 Torchy's
If you haven't tried items off of their "secret menu", you probably aren't doing it right. And their queso has an incredibly loyal following.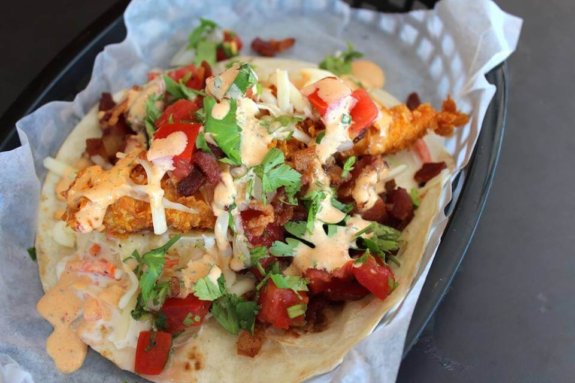 La Guadalapana
Let's be real. You don't just come for the tacos….you come for the tacos, the cinnamon-y coffee, AND a churro.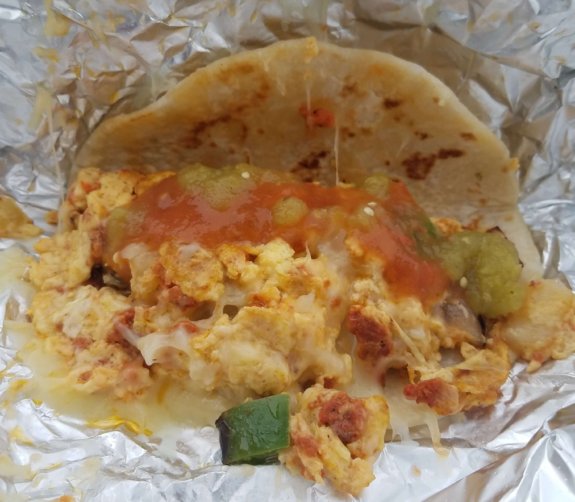 April 9, 2018 by Lauren Scott
Lauren, the dinner club organizer, hosted her birthday party at Presidio; this served as a substitute for March's standard dinner club meeting.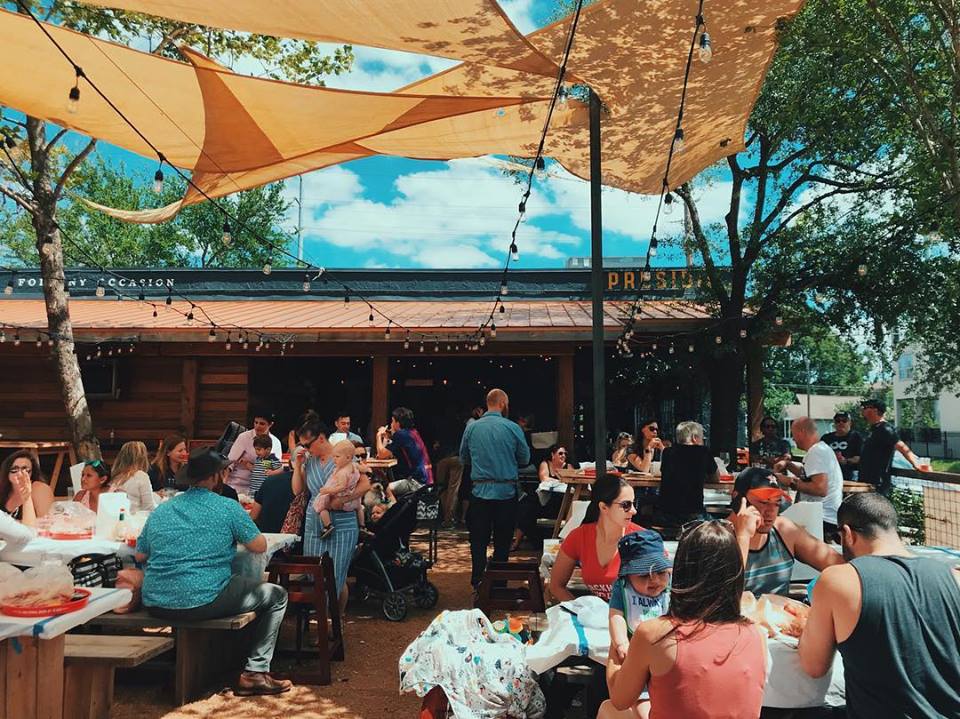 ura, the event coordinator, was in touch with me later that day, and after talking to her about what I imagined (casual evening party on the patio, delicious food, relaxed vibe, nice but not stuffy), she assured me that this was Presidio's bread and butter, we could totally pull off what I imagined, and we set up a meeting to discuss further. A week or two later, Laura and I had the date, a price point, a menu concept (dependent on what was seasonally available from Presidio's local purveyors), and a guest list of about 30 people. I couldn't have been more excited.
The day of the party came, and fortunately, Houston weather cooperated perfectly for the evening affair. The scene was, in my mind, idyllic. We had two rows of picnic tables reserved on the back patio. Presidio's team had set the tables with flowers in mason jars, blue striped napkins, and votive candles. One of my friends actually leaned over to me and whispered "this could be for a wedding!" After everyone chatted and ordered drinks, we sat down for a family-style dinner, and oh my, it was DELICOUS.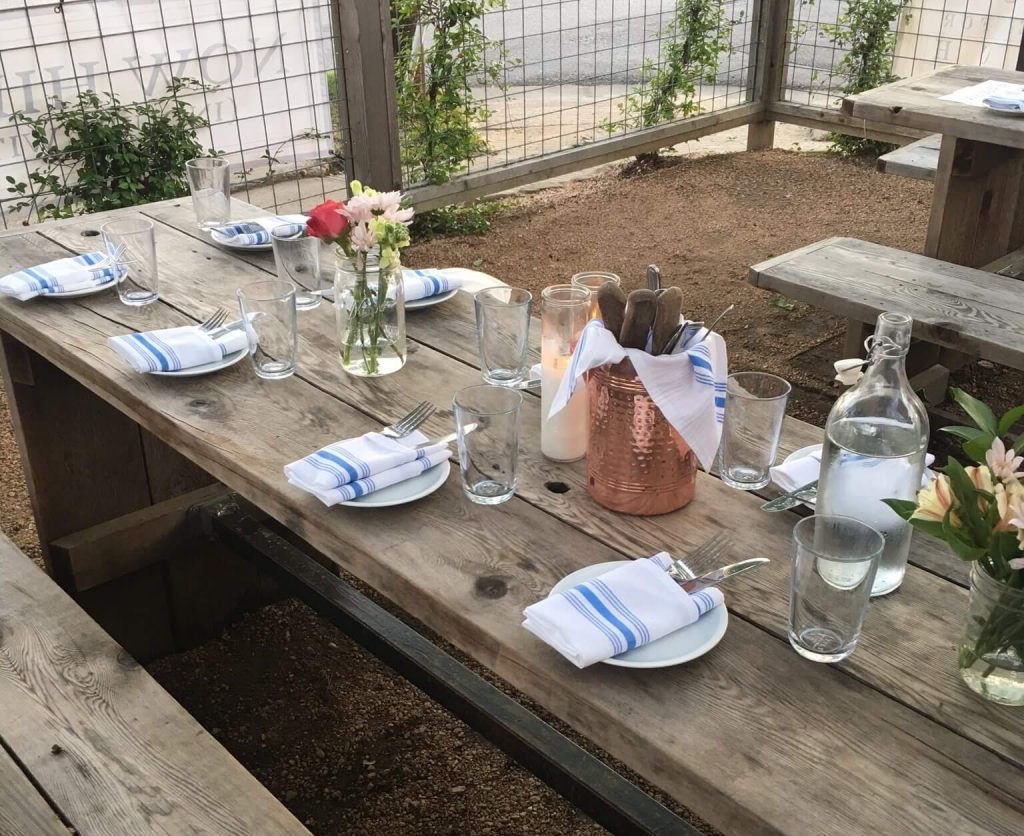 We started with the fall-off-the-bone-tender smoked ribs with a Japanese BBQ glaze; the savory roasted and marinated beets, served with whipped ricotta and grilled bread; the Presidio signature sweet potato beignets; and the chicken wings that even the wing skeptics devoured. And that was just the appetizers. The main course consisted of Granny Rose's tacos, roasted whole red snapper, grilled bavette steak with romesco sauce, Indian Creek Oyster mushrooms with polenta, marinated brussels sprouts, and salad bowls of local greens. I could go on and on about how amazing the food was. Taste, quality, appearance – every item was stand-out. All the guests were raving about how wonderful the meal was, and no one left even remotely hungry.
As we finished the evening with Italian cream cake from Dacapo's Bakery, and my closest friends and family sang Happy Birthday, I was reminded of how fortunate I am to have friends and family who will share in experiences like that with me. An amazing meal is made exponentially better when shared with loved ones, and I have my friends, my family, Laura, and the whole Presidio team to thank for such a memorable, wonderful birthday evening. You all are the best, and from the bottom of my very full heart, thank you!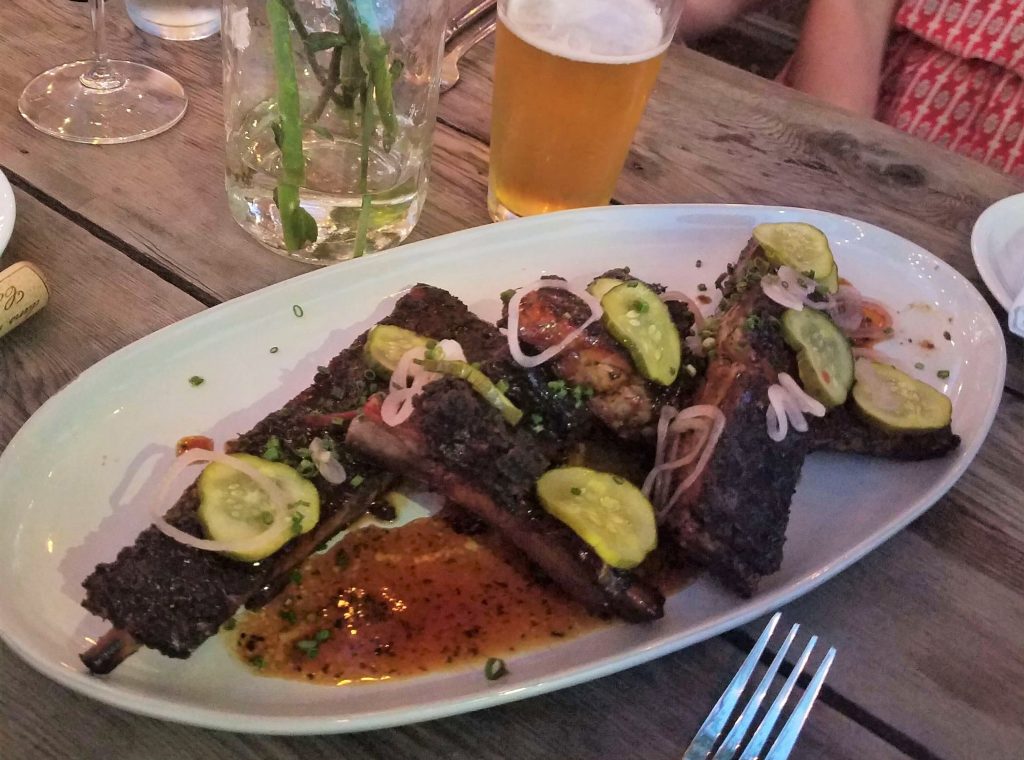 Alright, now for the summarized review.
Attire: Casual to nice. Anything really could go.
Ambiance: Cool and trendy. Nice but relaxed, with a pretty interior. Two patios, with the larger being out back with picnic tables, string lights, and a band stage for live music. Like many Heights restaurants, it is not giant inside.
Service: Being that we were a large, private party, we had our own dedicated service team. Laura is a boss, and I would totally do a party with Presidio again. Food came out promptly, and I thought the whole evening flowed wonderfully.
Food: OMG, so good! Everyone had their favorites, but I highly recommend the tacos, the ribs, and the fish. But it was all so good, you really can't go wrong. If you didn't read my full review above, I listed everything that we enjoyed. Presidio prides themselves on locally sourcing and using seasonal ingredients, which I really appreciate, too.
Drinks: Very nicely curated wine, beer, and cocktail list. Many guests at the party ordered the different house wines, and everyone seemed pleasantly surprised with how good those were. Several guests were also raving about the Lavender Lean cocktail. I was drinking bubbly and was very pleased.
Overall: I really have nothing but great things to say about our experience at Presidio. The patio is very nice on a beautiful evening. The atmosphere is perfect for a date, casual get-together with friends, or a fun, special occasion. The food was all incredible, and I like the local/seasonal aspect of the menu. You won't be disappointed with the well-considered drinks selections, either. Being that this was a private party, with a set menu and dedicated team, perhaps our experience is different than that of an every-day diner, but I will certainly be returning to Presidio soon. I would highly recommend having a party with their team.
March 9, 2018 by Lauren Scott
GOODE CO. HAMBURGERS & TAQUERIA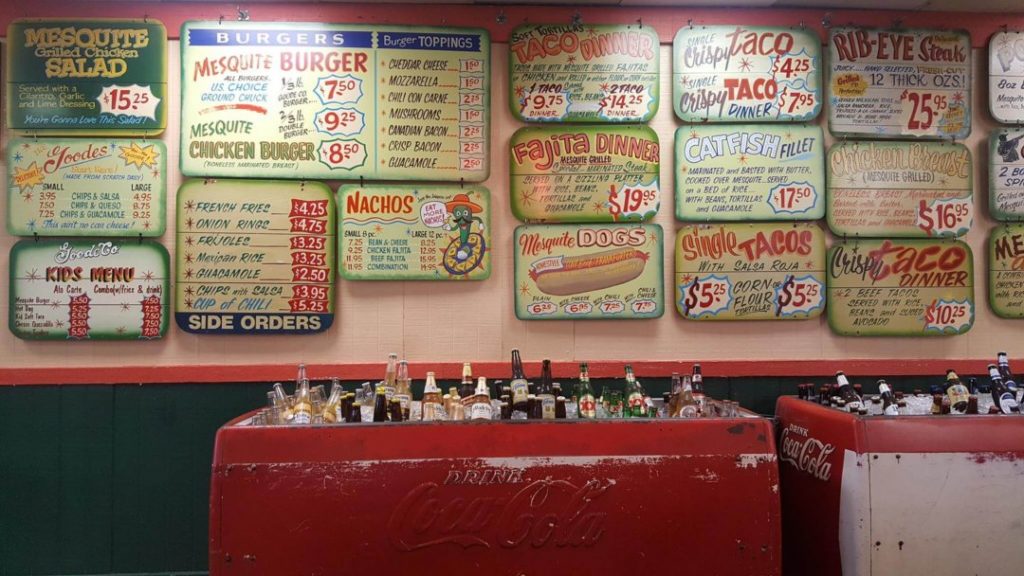 Go for: the cool patio, the chorizo, the pecan waffles, and unique Tex-Mex offerings
AVALON DINER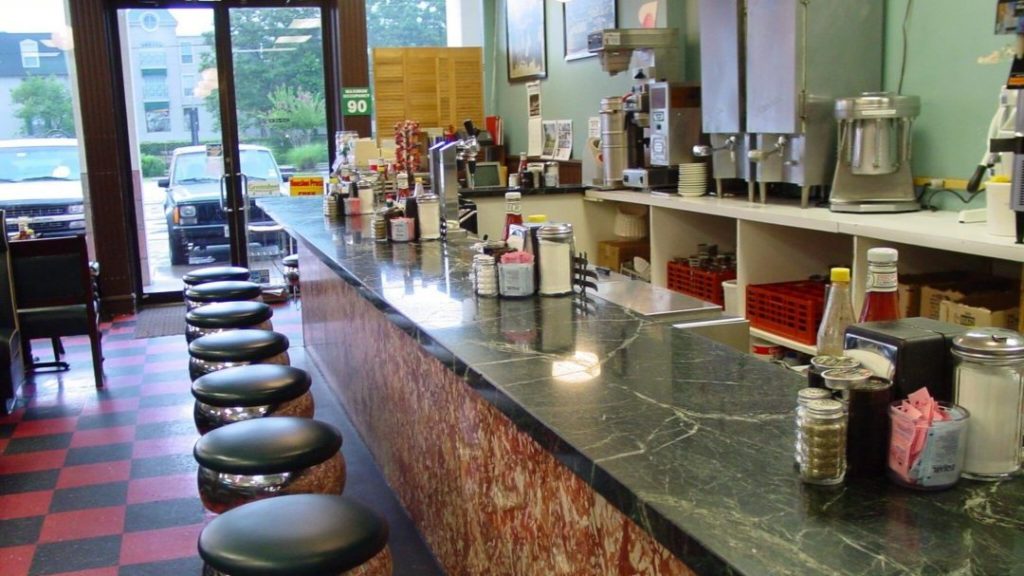 Go for: an old-school diner breakfast
THE BUFFALO GRILLE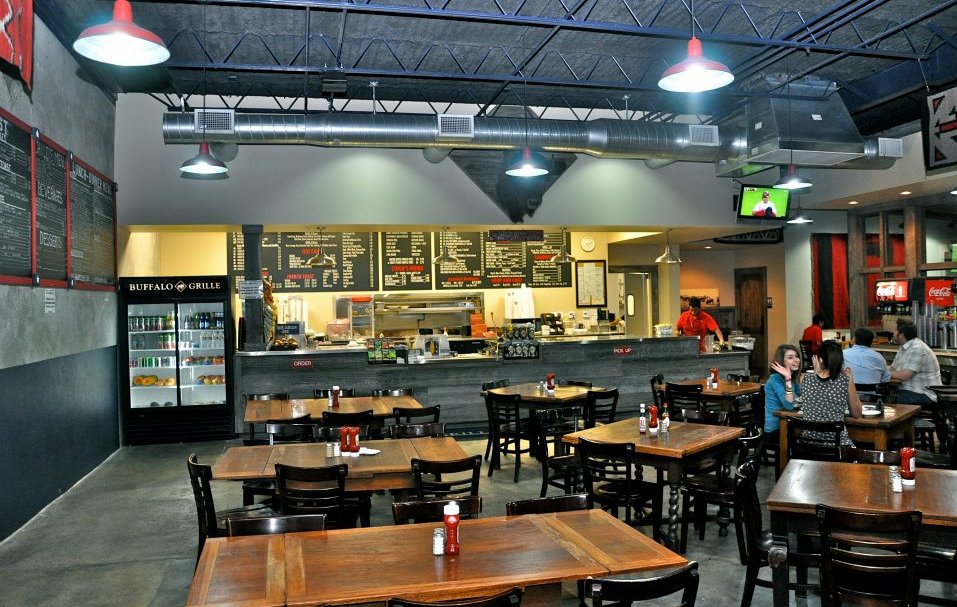 Go for: the wide variety of menu items, all delicious
ISLAND GRILL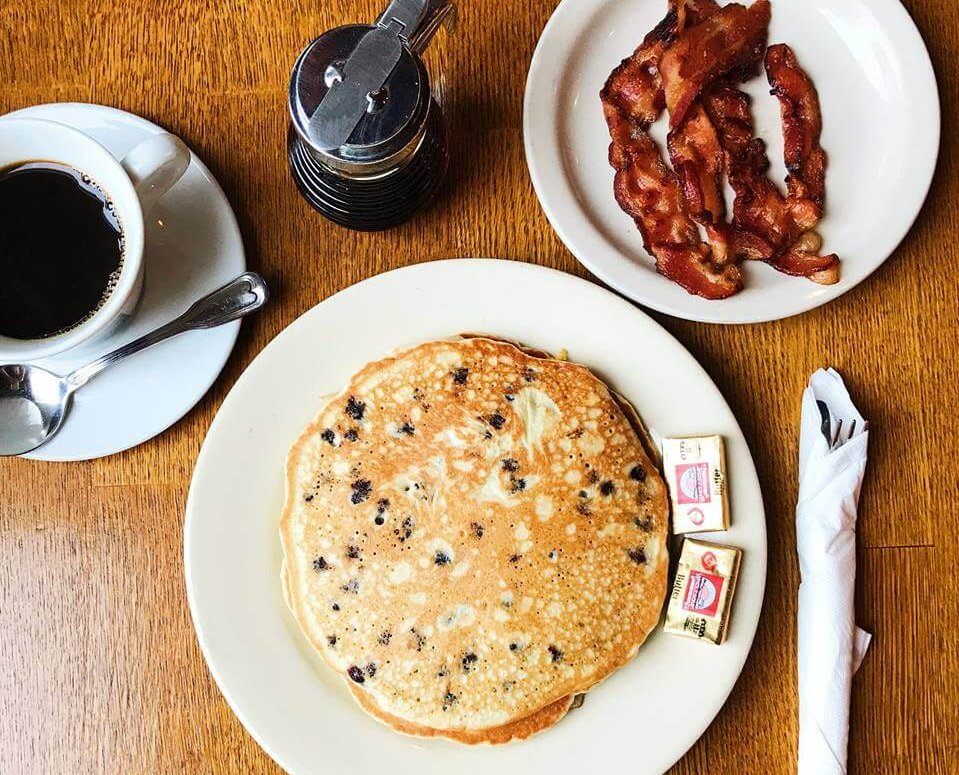 Go for: smoothies, the Phoenician, and the pancakes
DISH SOCIETY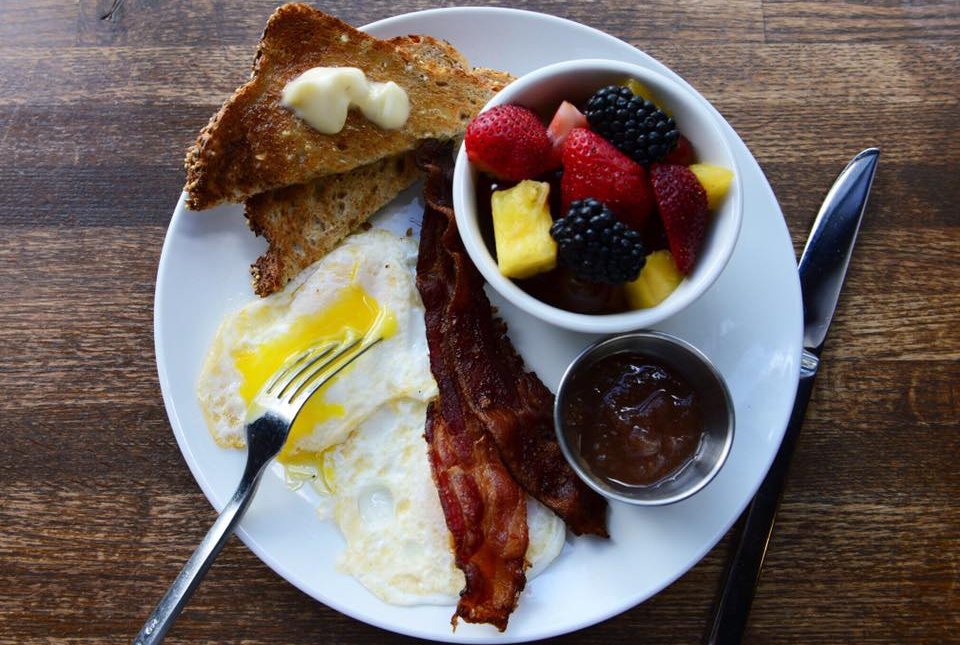 Go for: shrimp and grits, mimosas, and other farm-to-table dishes…
February 15, 2018 by Lauren Scott
February's club meeting took place at Beaver's on Westheimer for Happy Hour and dinner.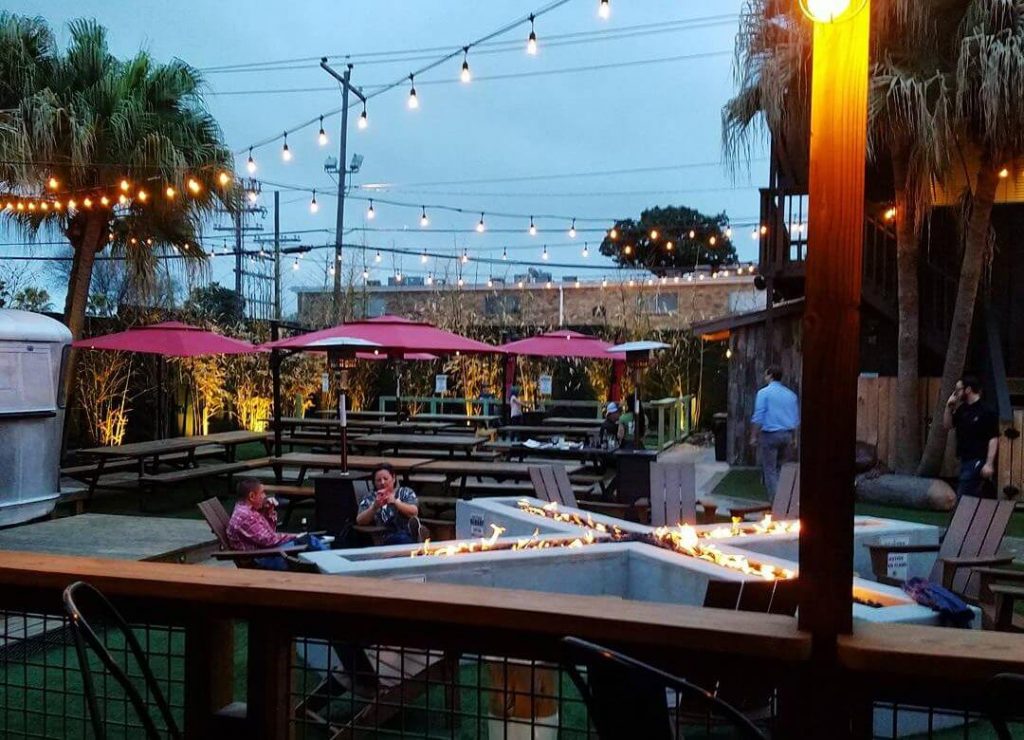 February 10, 2018 by Lauren Scott
In no particular order and including only places we have tried and tested, here are our top choices for pizza.
Pizaro's Pizza Napoletana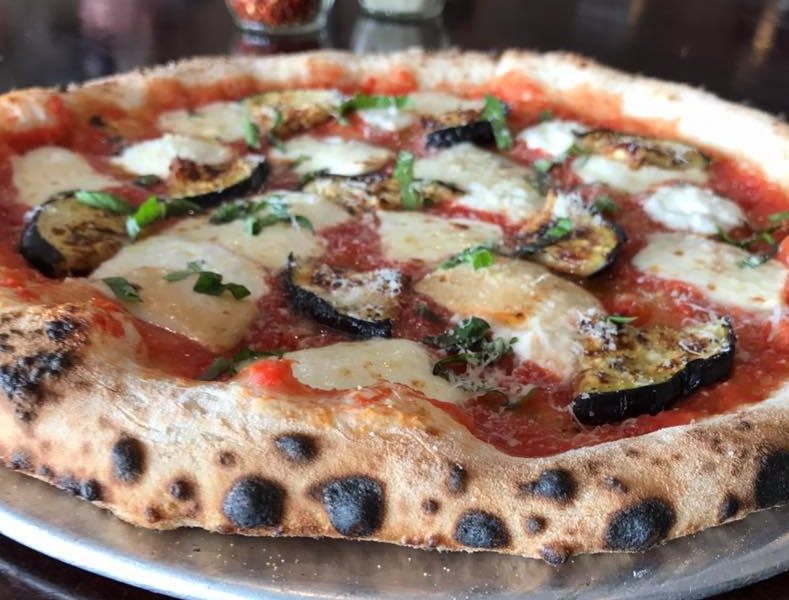 Go for: the wood fired pizzas and bring your own favorite bottle of wine
February 9, 2018 by Lauren Scott
Valentine's Day is many things – gimmicky, sweet, cheesy, romantic, and in some cases, dreaded (for many reasons). I think of it as significant other appreciation day. Yes, you should appreciate each other year around, but this a good time to do something out of the ordinary and shake it up a little. If V-day falls into the "dreaded" category for you, then fear not! We are here to help.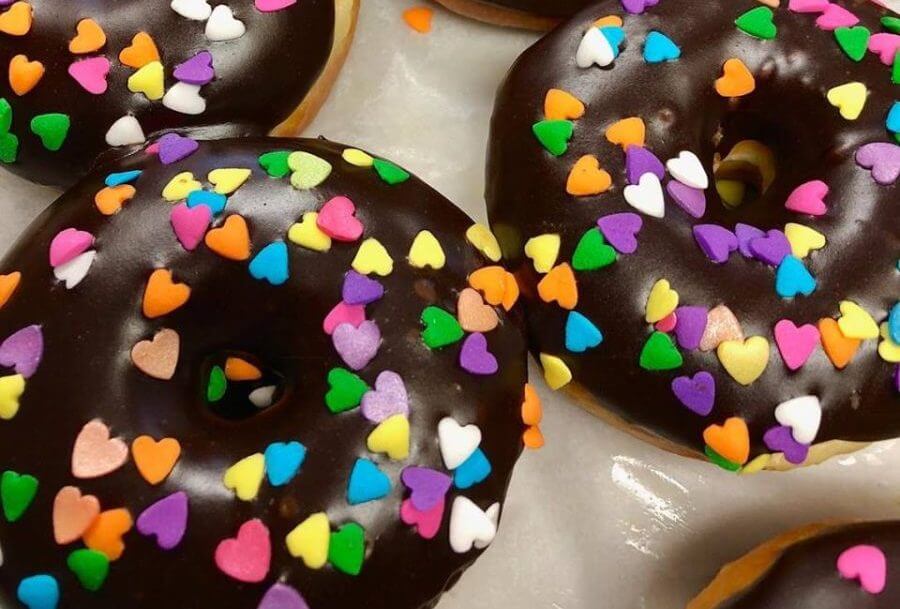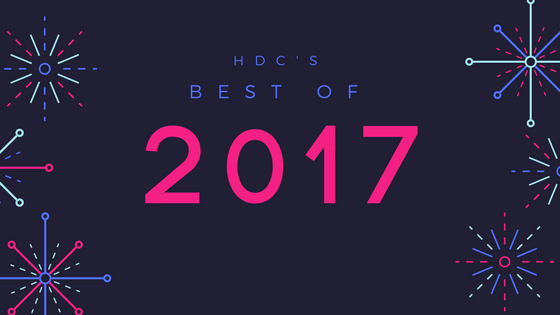 As we enter 2018 and another year, I wanted to highlight some of the top places the Dinner Club ate in 2017.  Here are our favorites from the past year….