HDC REVIEW: PRESIDIO, MARCH 2018
December 7, 2020
Lauren, the dinner club organizer, hosted her birthday party at Presidio; this served as a substitute for March's standard dinner club meeting.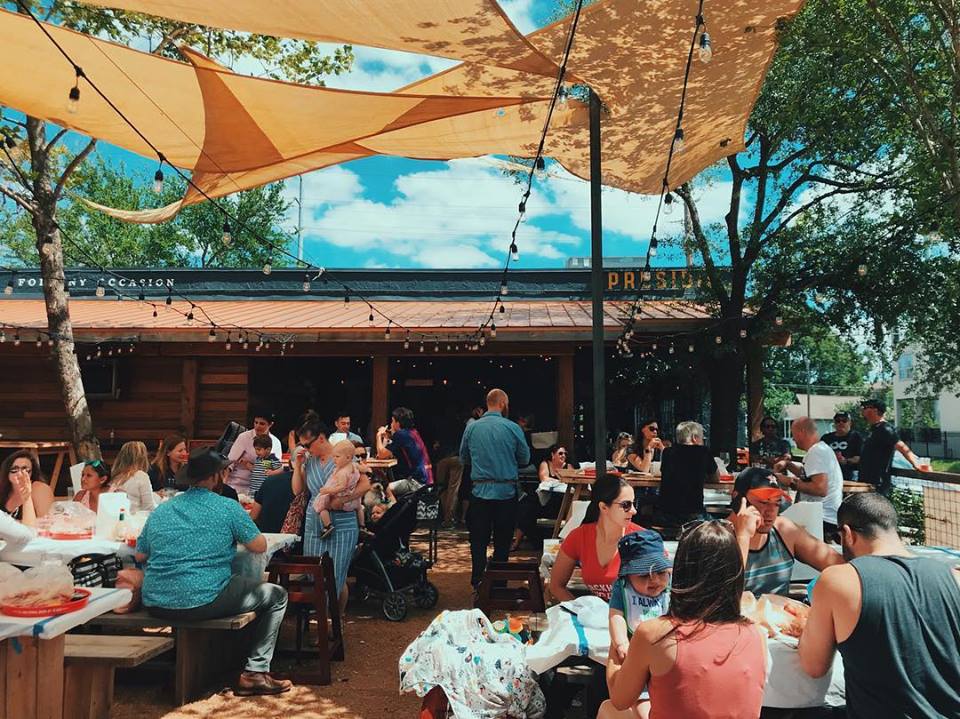 Back patio at Presidio, Facebook
While seeking the perfect place for our March meeting, I was looking over Presidio's menu and saw that they advertised the restaurant was "for any occasion" and could easily host events for large parties of 15 or more. My birthday falls during the last week of March, and although I normally host a party at my home to celebrate, I knew that would not be possible this year due to moving and other commitments. A dinner party at a place like this, however, would be more than ideal. So I sent them an email, more out of curiosity than expectation. Laura, the event coordinator, was in touch with me later that day, and after talking to her about what I imagined (casual evening party on the patio, delicious food, relaxed vibe, nice but not stuffy), she assured me that this was Presidio's bread and butter, we could totally pull off what I imagined, and we set up a meeting to discuss further. A week or two later, Laura and I had the date, a price point, a menu concept (dependent on what was seasonally available from Presidio's local purveyors), and a guest list of about 30 people. I couldn't have been more excited.
The day of the party came, and fortunately, Houston weather cooperated perfectly for the evening affair. The scene was, in my mind, idyllic. We had two rows of picnic tables reserved on the back patio. Presidio's team had set the tables with flowers in mason jars, blue striped napkins, and votive candles. One of my friends actually leaned over to me and whispered "this could be for a wedding!" After everyone chatted and ordered drinks, we sat down for a family-style dinner, and oh my, it was DELICOUS.
We started with the fall-off-the-bone-tender smoked ribs with a Japanese BBQ glaze; the savory roasted and marinated beets, served with whipped ricotta and grilled bread; the Presidio signature sweet potato beignets; and the chicken wings that even the wing skeptics devoured. And that was just the appetizers. The main course consisted of Granny Rose's tacos, roasted whole red snapper, grilled bavette steak with romesco sauce, Indian Creek Oyster mushrooms with polenta, marinated brussels sprouts, and salad bowls of local greens. I could go on and on about how amazing the food was. Taste, quality, appearance – every item was stand-out. All the guests were raving about how wonderful the meal was, and no one left even remotely hungry.
As we finished the evening with Italian cream cake from Dacapo's Bakery, and my closest friends and family sang Happy Birthday, I was reminded of how fortunate I am to have friends and family who will share in experiences like that with me. An amazing meal is made exponentially better when shared with loved ones, and I have my friends, my family, Laura, and the whole Presidio team to thank for such a memorable, wonderful birthday evening. You all are the best, and from the bottom of my very full heart, thank you!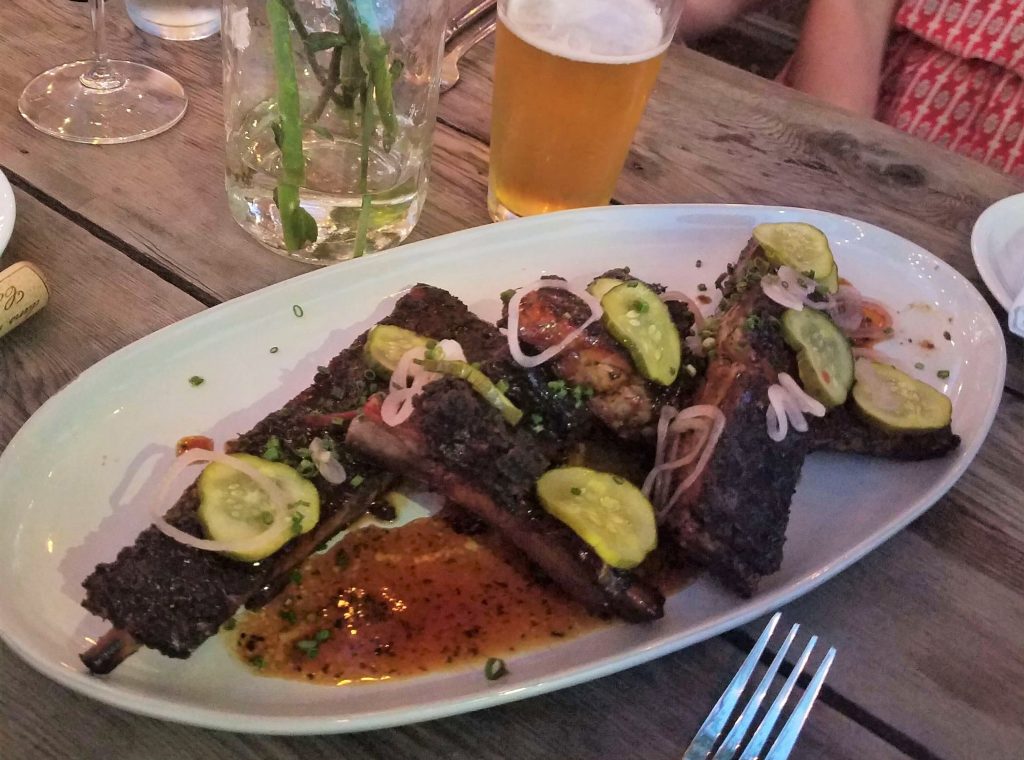 Smoked Ribs at Presidio
Alright, now for the summarized review.
Attire: Casual to nice. Anything really could go.
Ambiance: Cool and trendy. Nice but relaxed, with a pretty interior. Two patios, with the larger being out back with picnic tables, string lights, and a band stage for live music. Like many Heights restaurants, it is not giant inside.
Service: Being that we were a large, private party, we had our own dedicated service team. Laura is a boss, and I would totally do a party with Presidio again. Food came out promptly, and I thought the whole evening flowed wonderfully.
Food: OMG, so good! Everyone had their favorites, but I highly recommend the tacos, the ribs, and the fish. But it was all so good, you really can't go wrong. If you didn't read my full review above, I listed everything that we enjoyed. Presidio prides themselves on locally sourcing and using seasonal ingredients, which I really appreciate, too.
Drinks: Very nicely curated wine, beer, and cocktail list. Many guests at the party ordered the different house wines, and everyone seemed pleasantly surprised with how good those were. Several guests were also raving about the Lavender Lean cocktail. I was drinking bubbly and was very pleased.
Overall: I really have nothing but great things to say about our experience at Presidio. The patio is very nice on a beautiful evening. The atmosphere is perfect for a date, casual get-together with friends, or a fun, special occasion. The food was all incredible, and I like the local/seasonal aspect of the menu. You won't be disappointed with the well-considered drinks selections, either. Being that this was a private party, with a set menu and dedicated team, perhaps our experience is different than that of an every-day diner, but I will certainly be returning to Presidio soon. I would highly recommend having a party with their team.